H S A Jet Micron Printer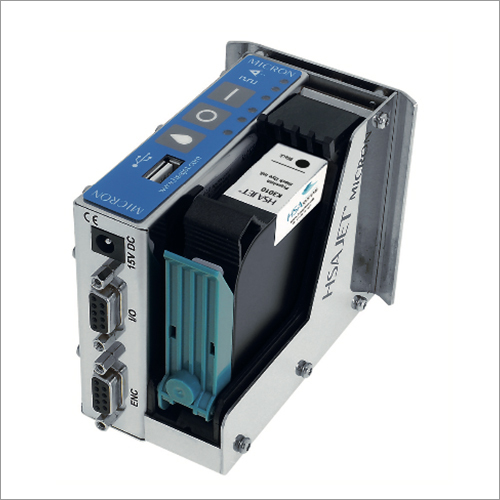 H S A Jet Micron Printer
Price And Quantity
750000.00 - 140000.00 INR
Product Description
"We Are Only Dealing In Andhra Pradesh, Karnataka, Kerala, Puducherry, Tamil Nadu, Telangana"
H S A Jet Micron Printer
Being a trustworthy firm in this sector, we are keenly indulged in bringing forth a world-class H S A Jet Micron Printer. The presented printing machine is designed for repeat printing job. The type of printer can print counters, graphics, date & time, text, barcodes, and three variable lines with high efficiency. It works at high speed without wasting printing inks due to its hi-tech parts & components. Easy to use and low maintenance, H S A Jet Micron Printer can be availed in different models, types and
Specifications.
Technology : HP TIJ 2.5
Print height max. 12.7 mm (") (1 cartridge)
Printheads 1 pen integrated
Print distance 0.5-2.0 mm (nozzle to print surface)
Voltage 15 V (power supply included)
Memory 1 print job in unit
Design software Mini Draw (PC)
Housing Stainless steel
Dimensions 107 x 86 x 87 mm
Weight 0.53 kg

LOAD PRINT JOB FROM USB-KEY

Build your print job on a PC using the free Micro Draw software delivered with the printer. Transfer to USB-key and connect to your Micron printer and you are ready to print.
The layout can be saved to the internal memory and the USB-key may be removed.
INK CARTRIDGES

A wide range of inks for each application is available:
spot colours, UV inks or fast drying inks.
The printer allows parameter settings for each ink to reach the best performance in all situations.
Technical details
Technology : HP TIJ 2.5
Print height : 12.7 mm / V2"
Print heads : 1 pen integrated
available in two versions for left or
right travel (MCHP1-L or MCHP1-R)
Print distance : 0.5-2.0 mm (nozzle to print surface)
Voltage : 15 V (power supply included)
Memory : 1 print job in unit
Design software : Micro Draw (for WinPC)
Print options : Left/Right, Upside-down
Layout options
Max. length 2400 px (~10 cm in 600 DPI)
Unicode support in text
Object rotation (fixed): free
Object rotation (variable): 180 deg
Works with mm/inch/point/pixel
Interface
USB 2.0
Encoder input 3-33 V (SUB D9)
In-/output 3-33 V (SUB D9)
Signals
Low ink signal (diode)
Print signal (diode)
Built-in sensor
Complies with
Housing
Weight
Accessories
Power cable with local wall plug
External sensor
Encoder
Bridges and brackets